Covid-19 Guidance
IMPORTANT ANNOUNCEMENT REGARDING SERVICES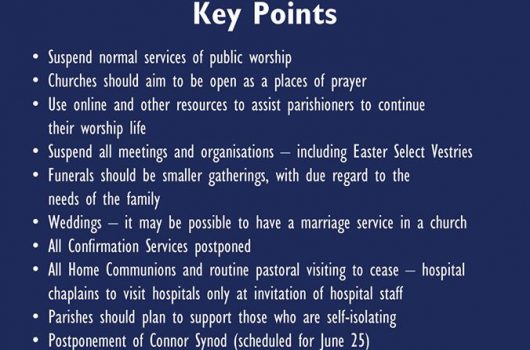 In light of the new guidelines issued by the Church of Ireland, our Bishop-designate George Davison has issued a letter to all clergy https://bit.ly/2U4y0P3  In line with this, ALL Sunday and mid-week services including all organisations connected with All Saints', will be cancelled until further notice.
We have the advantage of being able to stream our services online so our organist Alex, Archdeacon Stephen and The Rev Peter are going to be joined each Sunday by The Rev John Farr and The Rev John McClure. This Sunday at 11:30 am they will be streaming live a Mothering Sunday Morning Prayer followed at 6:30pm with the Healing Service. At 9am Monday to Friday we will stream Morning Prayer. Please click directly on this link to access the service https://bit.ly/2UmPlBx
While routine pastoral visits have been suspended for the safety of everyone, if you need urgent pastoral assistance or if you are isolated and need practical help with regards getting food or medication please contact The Rev McBride on 02894462186
Here's a link to our social media outlets as well as the Church of Ireland main site which provides lots of worshipping resources.
Website – http://antrim.connor.anglican.org/
Facebook – www.facebook.com/allsaintsparishantrim
Church of Ireland – https://www.ireland.anglican.org/
At a time that feels extremely scary for most, look out for your neighbours and members of the congregation during these unprecedented times that we currently face and please remember to pray – this can be done anywhere and at any time, God is with us!