What's on
Below is a list of our weekly schedule within the Parish of All-Saints in Antrim, part of the Diocese of Connor.
---
Sunday And Weekday Services
If you would like to come to our church we would be delighted to see you! Our Church has a stringent cleaning procedure and applies appropriate safe distancing measures.
Please get in touch via email: stephen_mcbride@talk21.com or rev.peterblake@gmail.com
If you would like to follow online please go to www.churchmedia.tv or click the link at the top of the page.
Our service times:
Sunday
10.00am: Morning Worship (Church)
11.00am: Funday Club (Parish Centre)
12.00pm Morning Worship (Church)
Wednesday
11.00am: Morning Worship (Church)
##The activities below are on hold until such time as it is safe to begin them again###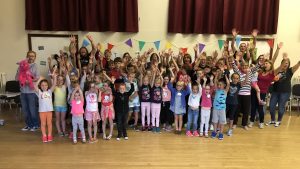 12.00 – 12.45pm: Funday Club (except every 3rd Sunday)
Leaders: Nicola Totten, Sylvia Barton, Shirley McFadden & Amanda McClelland Location: Parish Centre
Funday Club is for all children from P1 to Year 9. At Funday club, we learn about God, do craft activities, sing songs, play games and discuss some of the messages that we learn from the bible.
5.30pm Prayer Group (4th Sunday)
Leader: Helen Ferguson
This is a time of prayer and reflection for those who are ill in the parish. There is a time of structured prayer and reflection as well as a time of open prayer. The Prayer Group time together leads into our monthly service of healing which takes place at 6.30pm in the church.
6.30pm: Evening Service (except first Sunday)
Second Sunday – Choral Evensong
Third Sunday – Compline
Fourth Sunday – Holy Communion and Ministry of Healing
Fifth Sunday – Compline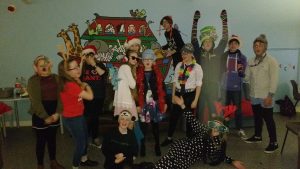 7.30pm: Next Steps
Leaders: Peter Blake, Claire Gray, Alex McBride
Next Steps was born out of the simple desire to see our youth grow and develop in their faith in an informal and fun setting. We try to balance faith with life. Our activities have included movie nights, chill nights and discussion forums . We have also participated in diocesan activity weekends with other youth groups from across the diocese .
---
Wednesday
11.00am: Holy Communion in the Parish Centre
---
Monday
9.30 – 11.30am: Tots'n'us
Leader: Wendy Smyth
Tots 'n' Us is a place where babies and pre-school children meet, along with parents, grandparents, and carers. Everyone is very welcome to come along – we love to meet new faces- you just need to bring a tot! It costs £1.50 per adult, children are free. This includes two hours of play and sing song, refreshments for adults and a snacks for the children.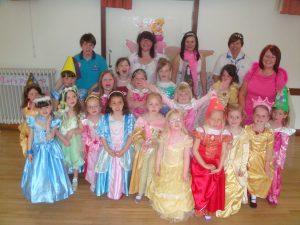 6.00- 7.30pm: Rainbows age 4 – 7
Leader:  Amanda McCoy
Rainbows is the youngest section in the Girl Guides, for girls aged 4 – 7 (P1 – P3). Rainbows is all about developing self-confidence, building friendships, learning new things and having fun. Girls get their hands dirty with arts and crafts, trying out cooking and playing games. Rainbows is all about learning by doing.
6.00 – 7.30pm: Brownies age 7-10
Leader: Lee Allen
Brownies is the Girl Guides section for girls aged 8-11 (P4 – P7). Through meetings, day trips and camps, Brownies learn new hobbies, play music, explore other cultures and get adventurous outdoors. Girls can also extend their knowledge and abilities by working towards Brownie interest badges covering many different hobbies and activities.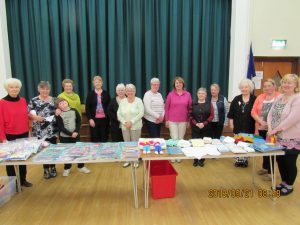 7.30 – 9.30pm: Holy Knitters
Everyone is welcome to attend and you don't have to be able to knit! Members have knitted and crocheted matinee coats, angel blankets and bonnets for some of the new born babies in the neo-natal unit in Antrim Area Hospital. Members have also supplied wash bags for people who have undergone an emergency admission to the hospital arriving without any of the bare essentials to make their stay a little more comfortable. The children in ward A2 have been supplied with colouring books and pencils.
---
Tuesday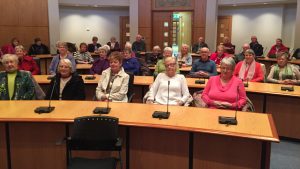 11.00am – 1.00pm: Evergreens (second Tuesday)
Leaders: Nelson Scott & Liz Kennedy
Fun for those aged 65+ in the Parish! There are different speakers and activities every month, and trips during the year. Come along for a chat, for the friendship, and for the 'craic'!
                                                                                                                                                                         Evergreens 2020 Programme
Tuesday 11th February – Ronnie Barnes giving a talk on The Mills of Dunadry and Sixmilewater                                                                                            Tuesday 10th March – Jim Dillon – Talk on the work of Professor Pantridge from the Pantridge Trust                                                                           Tuesday 21st April (Please note date change because of Easter) – William Hill – The history of the Fife and Drum                                                      Tuesday 12th May – Men's Shed choir                                                                                                                                                                                             Tuesday 9th June – annual outing – details to be confirmed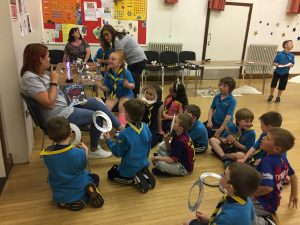 6.30 – 7.45pm: Beavers age 6-8
Leaders: Rachael McBride, Jimmy Hann
Beaver Scouts are the second youngest section of the Scouting family, for young people 6 – 8 year olds. For both boys and girls, activities are based around making things, outdoor activities, singing, playing games, going out on visits, investigating nature, listening to stories, learning how to be safe and most importantly, making new friends.
6.30 – 8.00pm: Cubs age 8 – 10 1/2
Leaders: Claire Thompson, Fiona Peddie
Cubs is the third section of the Scouting movement, for young people 8 – 10 ½ years old. During their time in the Pack, Cub Scouts will get a chance to try lots of different activities like swimming, music, exploring, computing and collecting. There are a range of badges available which Cub Scouts can wear on their uniforms to show everyone how well they're doing. Cub Scouts also get to go on trips and days out, and sometimes they will be able to go camping with the rest of the Pack and take part in all kinds of outdoor activities.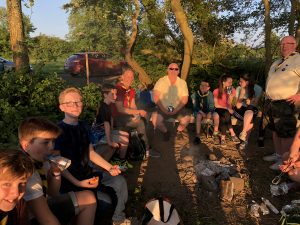 7.15-9.00pm: Scouts age 10½ – 14½
Leaders: Bronagh McAuley, Nick Graham, Joe McErlane and Stephen McBride
The Scout Section is for young people aged 10 ½ +. Scouts take part in a programme that helps them to find out about the world in which they live, encourages them to know their own abilities and the importance of keeping fit, and helps develop their creative talents. It also provides opportunities to explore their own values and personal attitudes. Scouting is about being with friends, as part of a team, and participating fully in the adventure and opportunities of life.
7.15 – 9.00pm: Explorer Scouts age 14 1/2 – 18
---
Wednesday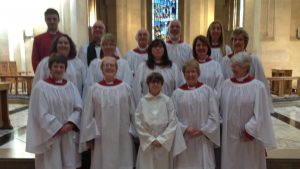 7.00 – 8.00pm: Church Choir
Leader: Alex McBride Location: Parish centre
7.30 – 10.00pm: Bowling Club
Leader: Nelson Scott
The Bowling Club is open to everyone in the community. The Club plays in the Antrim Churches League, and whether a beginner, or an experienced indoor bowler, you will be made welcome.
---
Thursday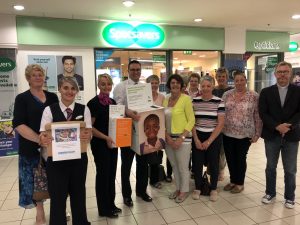 8.00 – 10.00pm: Mothers' Union (2nd Thursday)
Leader: Sylvia Barton
Mothers' Union is an international Christian membership charity that aims to demonstrate the Christian faith in action through the transformation of communities worldwide. We have a varied programme and different speakers, and we would love to welcome any ladies from the church who would like to get involved. Come along for friendship and fellowship.
                                                                                                                                                                               2020 Programme   Theme – "Building Hope and Confidence"
January               Thursday 9th  "A little ray of sunshine in January"                                                                                                                                                                               Sunday 26th Enrolment Service                                                                                                                                                                      February            Thursday 13th Noreen Hurst – talk on her recent Zambia Trip                                                                                                                            March                 Friday 6th 8pm Woman's World Day of Prayer at Muckamore Presbyterian Church                                                                                      April                    Thursday 9th Holy Week Service                                                                                                                                                                           May                     Thursday 14th talk from Sally Cotter, Diocesan President "My journey"                                                                                                         June                     Outing to be arranged                                                                                                                                                                                    September         Thursday 10th Communion Service in the Parish Centre and a talk by Sheila Thompson on her visit to the Palace                                 October              Thursday 8th Wesley Bonar "The life of Lilian Bland"